Bing is a search engine owned and operated by Microsoft. The service has its origins in Microsoft's previous search engines: MSN Search, Windows Live Search, and Live Search. Bing provides a multitude of services, including web, video, image, and map search products. It follows the design principles of Microsoft's "Metro" design language and is written in ASP .NET.
Bing was unveiled by Microsoft CEO Steve Ballmer on May 28, 2009 at the All Things Digital conference in San Diego, California, and was released on June 1, 2009.
In July 2009, Microsoft and Yahoo! announced a deal in which Bing would power Yahoo! Search. All Yahoo! Search global customers and partners made the transition by early 2012. The deal was slightly altered in 2015, meaning Yahoo! was only required to use Bing for a "majority" of searches.
As of November 2015, Bing is the second largest search engine in the United states with a query volume of 20.9%, behind Google's 63.9% and surpasses Yahoo!'s 12.5%.
About Bing
This section requires expansion. You can help the Searchengines Wiki by adding reliably sourced information.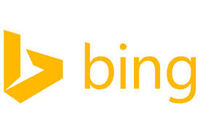 References