This article needs additional citations for verification. You can help Searchengines Wiki by by adding citations to reliable sources. Unsourced material may be challenged and removed.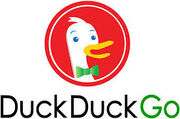 DuckDuckGo is a search engine created by Gabriel Weinberg in 2008. It is often branded as an anonymous search engine and is similar to its competitors such as Google and Bing. However, DuckDuckGo does not paginate its search results and the website favicon is displayed next to the search result, among other things.[1][2]
Features
DuckDuckGo has a multitude of search features, including the ability to search within a specific website.
References
Ad blocker interference detected!
Wikia is a free-to-use site that makes money from advertising. We have a modified experience for viewers using ad blockers

Wikia is not accessible if you've made further modifications. Remove the custom ad blocker rule(s) and the page will load as expected.