This article needs additional citations for verification. You can help Searchengines Wiki by by adding citations to reliable sources. Unsourced material may be challenged and removed.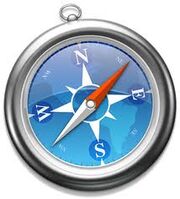 Safari is a web browser developed by Apple Inc. It made its first appearance in 2003 with Mac OS X Panther, and has since expanded to Apple's iOS mobile operating system with the introduction of the iPhone in 2007. It is the default browser on macOS and iOS. A version of Safari was available for Windows from 2007 until its discontinuation in 2012.
History
This section requires expansion. You can help the Searchengines Wiki by adding reliably sourced information.
Prior to 1997, Macintosh computers were only shipped with the Netscape Navigator and Cyberdog browsers. Starting from Mac OS 8.1 until Mac OS X 10.2, Internet Explorer for Mac was the default web browser due to a five-year agreement between Microsoft and Apple.
On January 7, 2003 at Macworld San Francisco, Steve Jobs announced that Apple had developed their own web browser – Safari. It was based on the WebKit rendering engine, and the first beta version was released for OS X that day. A number of betas were released before version 1.0 rolled out on June 23, 2003.
Trivia
References